I recently received this inquiry from a visitor to my website:
"I am really impressed with your style of work. I wish I could paint like that. I notice that you don't have any portraits in your gallery. I'm a painter, too and for some reason I feel if I can't paint portraits, I won't be a "complete" artist. What do you think? Is painting portraits necessary to be considered a true artist?" Yours truly, Art C. Guy
Well, Art C. Guy, that begs the questions "What constitutes being a "true" artist?" Some reflection on what Art is seems called for.
I admit the true nature of Art is a mystery to me. I like to think Art connotates an extraordinary level of excellence. It possesses qualities of truth and beauty which resonate within the human soul. It represents the culmination of long-developed skills synthesized with true personal expression. I feel it's bound up in the human experience. It seems to spring forth from who and what we are as people. By our very nature we are creative. But that doesn't mean all that we create is Art. I think "Art", capital "A", transcends art, small "a". Many painters and sculptors feel, as I do, that Art is something more than the crafty use of art materials. Most of them would hesitate to refer to themselves as Artists. That would be like a holy person referring to him or herself as a "Saint". A holy person doesn't do that out of humility and reverence for "true" Sainthood. Likewise many painters and sculptors reserve the designation as Art for only the finest and truest expressions.
Clearly it is difficult to say exactly what Art is. Yet, though we struggle to say what it is, we know it when we see it. Maybe we can find some clarity by saying what Art is not. This brings me to the question of whether portraiture is necessary for being considered a "true" artist. Early in my development I felt it was necessary to achieve proficiency in all genres. I thought so because I assumed that the art of painting was a subject driven. Later I realized that painting was potentially much more than copying subject matter. I saw evidence of this in the Art of many great painters both living and deceased. Eventually, it occurred to me that the Art in their paintings was not dependent on subject matter. Rather it was dependent on the expressiveness of context and lighting. Along with this insight came my first inkling as to the expressive potential inherent in painting principles which include paint itself. In both instances the operative word is "expressive". As such, a painter expresses his or her self by translating nature into fine art. The painter's infrastructure is a visual language consisting of shapes, values, color, edges and paint quality. The popular blog radio show, Artist's Helping Artists, routinely asks it's guests what they paint. The replies are often mood, emotion or light. Rarely, if ever, do the guests reply in terms of subject matter.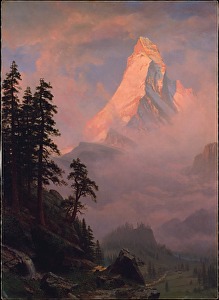 Consider painters of The Hudson River School such as Frederick Church, Albert Bierstadt, Sanford Gifford and Thomas Cole. Most of us have seen their landscapes. We're so impressed by the landscapes that we never consider whether they ever painted portraits. Yet who would argue that they were not "true" Artists. Their work is not only beautiful and elegant. It has stood the test of time. Also consider such living masters as Richard Schmid or David Leffel? If Schmid never painted portraits would you look at his landscapes and question whether he was a "true" artist? Conversely, would Leffel be less of a "true" artist without the token landscape to go with his portraits and still lifes? I think Art C. Guy's question assumes that portrait painting is the most difficult. I suppose that assumption is valid for those who struggle with drawing. Deficient drawing skills are readily exposed in portrait and figurative work. But assuming adequate drawing skills are present I see no logical reason to conclude that portrait and figurative work is harder than landscape. One could argue that landscape painting poses more complex problems especially in the areas of design and perspective. Never mind the constantly changing light and other variables with which plein air painters contend.
So, assuming these reflections are valid. And assuming that Art does spring forth from our creative nature, how do we help the process? The next post will look at the basic stages of creative development. From there we should be able to chart a course.
Meanwhile, you are invited to participate in my Nuts and Bolts of Oil Painting and Nuts and Bolts of Landscape Painting workshops this November 2-3 and November 9-10. Follow the links for more information.